All materials and presentations that were shared with DOVIA Colorado by the workshop presenters are linked below - enjoy!
Launch Pad: Taking Your Volunteer Program and Career to New Heights
CONFERENCE CLOSING SESSION
Maximize Your Pay Through Effective Negotiation
Denise Liebetrau
The secret to maximizing your pay is knowing what you are worth. Do you know what to say and when to say it?
Do you know how to ask? Talk about the value you deliver in relation to the business strategy.
Make it easy for your leaders to say "yes"!
BREAKOUT SESSIONS (attendees will choose 3)
*Note: Sessions are categorized into beginner, intermediate, and advanced. While these are suggestions, we believe anyone can benefit from the content shared in any session, so don't feel restricted one way or another!


Volunteers and Interns 101-Wage and Hour Compliance
Lucia Padilla
Focusing on proper use and treatment of volunteers and interns by non-profit and for-profit organizations to ensure compliance with federal and state wage and hour laws. This can be a tricky area of the law to navigate, and legal compliance is essential to avoid unnecessary confusion, missteps, and potential claims from volunteers or interns.

Ask a Consultant! (Hard Questions Welcome)
Brianna Doby
Sometimes, we have questions or face challenges where we really need the help of a skilled consultant (but don't have the budget!). This will be a highly interactive session, with a robust Q&A as well as a short presentation about how to problem solve like a consultant. Bring your Qs, we'll have the As!

Designing and Conducting Qualitative Evaluations
Laura Sundstrom
Surveys are not always the best way to collect evaluation data. Sometimes we get the most illuminating, rich information from talking with people! Learn how to design and conduct interviews and focus groups from start to finish to make the best use of your - and your volunteers' - time.

Micro-Aggressions: Making your community organizations more inclusive spaces
Sabrina Sideris & Elizabeth Lenard
We'll briefly explore what micro-aggressions are and how volunteers' intentions may not equal their impact. While they may mean well, volunteers may say things that communicate derogatory or negative messages to target persons, based upon their non-dominant identities. This interactive workshop will help volunteer coordinators recognize how others may be affected by our language, even if it's well-intended, & then craft activities to educate their volunteers about micro-aggressions.

Understanding and Preventing Harassment in the #MeToo Era
Elaine Alberding
This session will help us to understand sexual harassment and how it can be displayed, to explore the #MeToo movement, to learn about problem behaviors and how to avoid them, to understand the responsibilities of the employee, and to prevent claims from happening.

Active Harmful Events
David Kaufman
Active harmful events are rare, but when they happen they are frightening. This seminar will help you know how to react if you happen to be part of one and be better prepared in advance.

Defining and Measuring Volunteer Retention
Laura Sundstrom
All organizations think about volunteer retention. How are you defining volunteer retention for your organization and how do you measure it? Using an example from Cooking Matters Colorado, we will discuss the process of defining volunteer retention for their context and present ideas for measuring retention based on that definition.

The Group Component: A Gold Mine
Mark W. Smith, CVA
Corporate and social volunteerism has a new set of rules in this fast-paced ever-changing field of Corporate Social Responsibility. Come learn about current trends of corporations and social groups, best practices for quality engagement, and proven ways to increase ongoing cultivation with all different types of groups.

Serving as a Catalyst for your Community
Peter Perez, CO-CEM
Does your program need a new vision? A new focus to re-engage and harness the passion of your community? Come learn how a stagnant disaster response and preparedness program was reshaped into a catalyst for neighborhood leaders.

Enhancing Volunteerism through Strategic Planning
Margo Josephs, Jennelle Freeston, Kate Kelsch, & Aimee Kane
It is common for organizations to view volunteer engagement as a nice to have program as opposed to a strategy. At the City of Boulder, staff from across the organization have been working to change this culture through the development and implementation of a Volunteer Strategic Plan.

Leading the Next Generation
Matt Gray
Leading new professionals effectively in nonprofits ensures that our communities flourish and our effectiveness as community leaders continues into the future. While much has been said about the next generation, it remains difficult to both retain and rely on new talent. Based on years of leading and coaching new professionals, this sessio brings expertise, tactics, and long-term strategy to engage, unite, and ignite our future leaders. You will walk away with an action plan to implement your learning, and collectively we'll write-up a booklet on the topic to share with others.

Working Effectively with Volunteers
Allison Bird
Sometimes staff need assistance understanding that "free help" doesn't mean there's no investment on their end. To nurture staff-volunteer relations, the first step is to give staff the tools to best communicate with volunteers. Help staff fully embrace volunteers make by helping them feel comfortable in their interactions with volunteers.

Unlearning Community Service; An Intentional Approach to Community Engagement & Volunteerism
Carla Mestas, MA
Has "Service Learning" lost its intention and meaning? Let's unlearn together as we explore the origins of true volunteerism and community engagement through a lens of equity and inclusiveness. We will explore the "savior syndrome" approach through rich dialogue and activities of what authentic support could look like in communities.
In this 'Part II' (one year after the 2017 CCOV), we will refresh the Root-Case Analysis principles, and take a tactical approach to diagnosing organizational performance gaps. This session is most impactful if you already have a specific gap, or needed improvement.

Solve that Problem -- for Good
Kirsten C Silveira
Do you often find yourself putting out fires? Are the same obstacles or problems coming up on repeat? FC Lean can help. This session is designed to provide participants with creative problem solving and process improvement tools that will enhance the way they design and administer volunteer programs.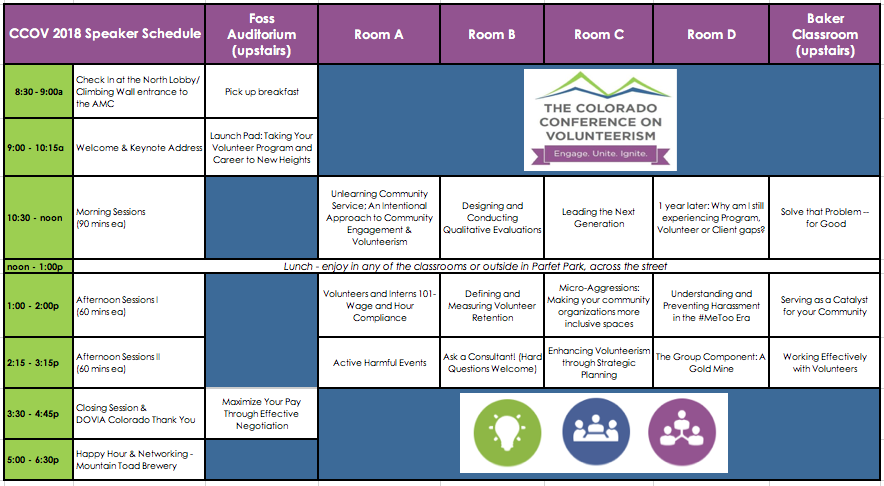 levels for each session. Don't view them as restrictions in any way - we encourage everyone to attend whatever speaks to you and to stretch & learn as much as possible from these amazing presenters.
: Participants with minimum experience, usually less than two years in the volunteer engagement profession, have direct volunteer experience, or with the topic of volunteerism.
: Participants who have prior volunteer management or direct experience as a volunteer, designed for those with 2-5 years of experience.
: Participants who are experienced in the volunteer engagement profession, direct experience as a volunteer, or the topic of volunteerism, designed for those with over 5 years of experience.